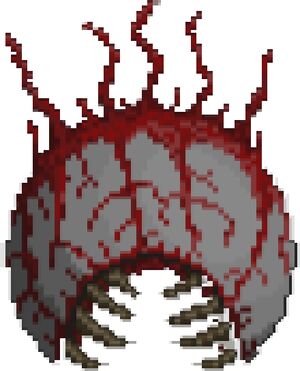 The Eye of Cthulhu is one of the many bosses in the Mobile Version of Terraria. The boss can be summoned with a Suspicious Looking Eye, or will randomly spawn at night after a certain criteria has been met. After defeating the boss in a world, it will no longer spawn randomly.
Stratigies
Edit
One of the best strats to beat the eye of cthulu is to build a long wooden platform and use shurikins and a good bow (maybe gold or platinum)
05:13

Terraria Xbox 360 Eye of Cthulhu Boss Guide & Overview! - Terraria Xbox Boss Guide Walkthrough

About himEdit
The eye of cthulhu is the very first boss and has 3000 health and 15 damage. When he reaches 1400 health he goes into a secound form which has 28 damage.
Ad blocker interference detected!
Wikia is a free-to-use site that makes money from advertising. We have a modified experience for viewers using ad blockers

Wikia is not accessible if you've made further modifications. Remove the custom ad blocker rule(s) and the page will load as expected.